I M A G I N E . . .
...stepping off the plane and into another world. The lush smell of rainforest mixed with sea-salt in the air. The warmth of the equatorial sun rising over the emerald green mountains. A feeling of relaxation already soaking into your skin...
And then a warm voice echoes:
B U L A !
A word you'll hear often in Fiji… It's simple meaning is "hello," but as you'll discover on this trip, it epitomizes the values of these unique South Pacific islands: love, friendliness, embracing and living life to it's fullest!
This retreat experience is designed to imbibe the magical energies of Fiji into your Soul. Each day we'll harmonize with high-vibe living through movement, breathwork, yoga, and a whole lot of fun & adventure!
The journey will leave you feeling refreshed, rejuvenated, inspired - and with a deeper sense of connection to community and the beautiful world around you!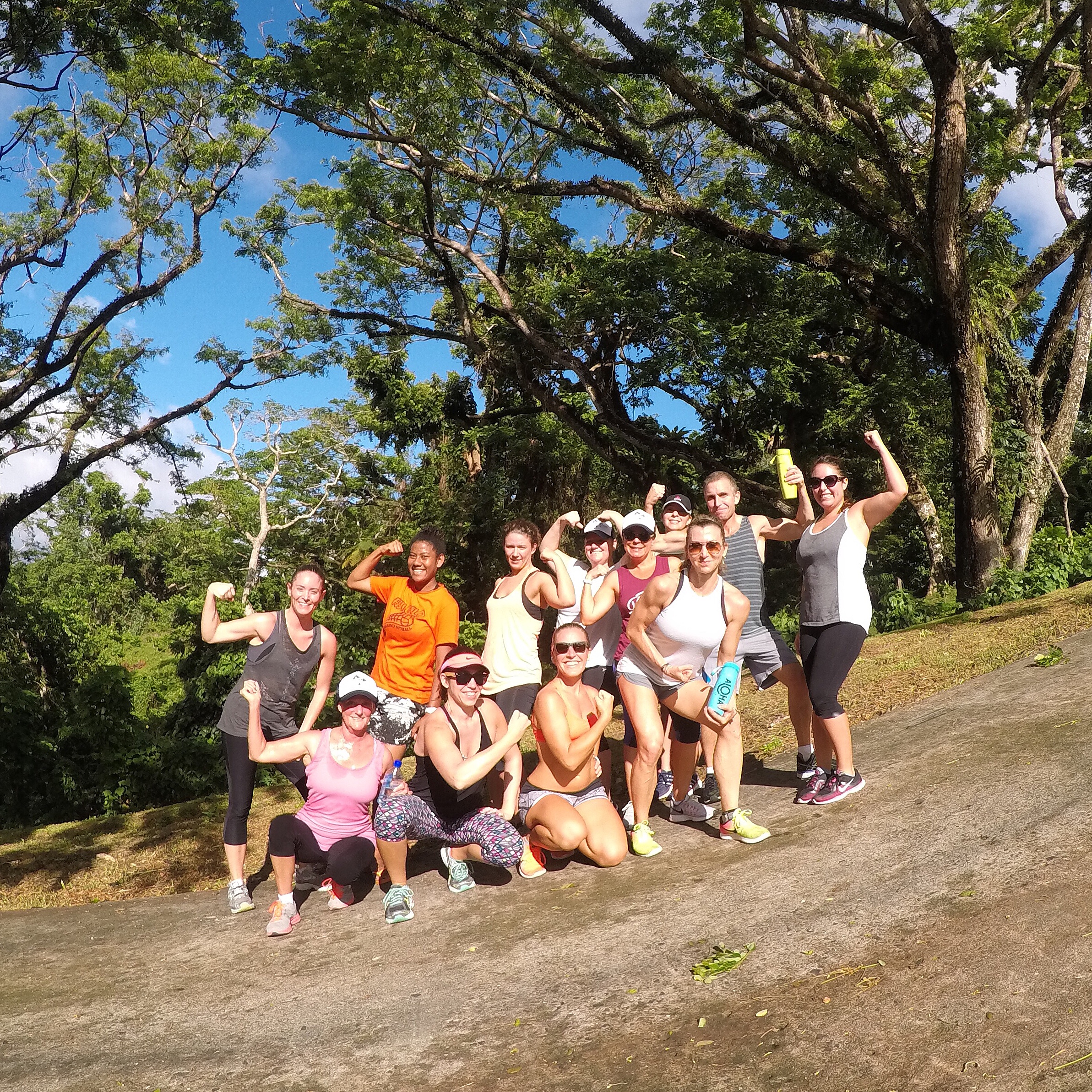 T H I S R E T R E A T I S F O R Y O U I F :
You are a seeker, an explorer, an adventurer. (Or are just aspiring to be!)
You're looking to learn more about nutrition, fitness, stress-relief techniques, injury prevention, self-care... and how to practice those in a real-world setting.
You like to stay active while you travel – and you like to balance that activity with amazing food, cocktails, and belly laughs, and plenty of relaxation!
You appreciate the comforts a beautiful resort offers, but are also seeking an experience of adventure, connection to local culture, and personal growth. You appreciate getting "off the beaten path."
You are a seasoned yoga practitioner, OR you're not sure you can touch your toes. You haven't missed a Bootcamp in class in years, OR the last time you hiked anywhere it was to get lunch. (ALL levels welcome!)
You need in a little less cell-phone time (you don't mind if the wifi is spotty!) and a little more nature time.
You like tropical beaches, lush rainforests, the ocean, palm trees, and you've always wanted a reason to explore Fiji.
OUR HOME IN FIJI:
Koro Sun Resort and Rainforest Spa is located on a pristine & quiet stretch of coastline, about 10 minutes away from the Savusavu airstrip down the Hibiscus Highway. You'll be warmly welcomed on arrival with a fresh cracked coconut or tropical smoothie; then sit back and enjoy a complimentary coconut foot scrub to help you reset your clock to island time. We'll help you check into your Garden Bure (room); or you may want to upgrade to a Floating Bure - the only rooms that actually float in the whole South Pacific! Spend the morning exploring the expansive property that meanders from starfish-lined tide pools at the edge of the ocean, through lily ponds and streams, up into the hill-trails of the dense jungle. Or maybe just find yourself relaxing by the Wai Club infinity pool... (My favorite spot!)
GETTING THERE:
You'll want to book your tickets from your city (or LAX) to Savusavu, Fiji. Our travel advisors at AllAboutTours are ready to help you with complimentary booking assistance should you need. The trip is really fairly simple, even compared to most Europe flights, as you'll fly overnight from the US west coast and land in the morning in Fiji, with only 3-4 hours time difference due to crossing the international dateline! (It's even easier if you're coming on the short hop over the pond from Australia!) Once you land in the international airport at Nadi, you'll take a short 50 minute flight to the remote northern island of Vanua Levu - leaving behind the crowds and entering a magical tropical paradise. We will be there to pick you up from the Savusavu airport!
ITINERARY:
Starting in the afternoon of your arrival day, we'll have plenty of activities on the itinerary (see the list below) - but remember: this is YOUR vacation! We like to think of it as a Choose Your Own Adventure! You can participate in as little or as much as you like. We leave some free space open for you to do some exploring on your own, relax into a hammock with a good book, or pamper yourself with a massage at the award-winning spa that sits open-air along the stream deep in the rainforest! Stay flexible - we add new excursions and activities all the time based on the tides, cultural events, & nature! (Detailed Itinerary will be sent out in your Welcome packet.)
What we'll do:
practice yoga, exercise, and breathe together daily - plus learn some great techniques for mobility, flexibility & stress-relief
swim & snorkel (or dive if you're certified) in the most crystal clear, turquoise waters. The quantity and colors of fish and underwater life is more than I've seen anywhere in the world yet...
stand-up paddle and kayak to the surrounding islands and outer reef for exploration
visit the local village school in Nagigi to make a donation of supplies and meet the children
partake in a traditional Kava ceremony (or two) and learn about this calming, social ancient ritual
learn simple practices that will help you disconnect from electronics and reconnect with your intuition
make a visit to Vuadomo village & waterfall, where we'll take a dip in the pristine waters
visit Savusavu town and markets, to see how many fruits you never knew existed (ever tasted fresh Noni fruit?)
experience soulful connections in a community with like minded people
follow the flow of the incoming tides on a lazy river paddle to Salt Lake for exploring
learn 99 different things you can do with a coconut tree, plus lots of other amazing things about the culture and natural paradise of the Fijian culture & islands
soak in the ocean and infinity pool (which has a swim-up bar!) until your fingers pickle!
take jungle treks and hikes in the lush rainforest
Who is this retreat for?
Truly, everyone! We've had all ages on our retreats, joining us as solo travelers, best friends, parents & kids, couples on their honeymoon, and small groups... Anyone with an open heart for adventure is welcome! One of the best parts of the trip is meeting new friends from Fiji and around the world.
Children are welcome at Koro Sun Resort! Kids can participate in many of our retreat activities, or have their own adventures at the Kids Club - where complimentary child care is available 9am-4pm daily. (see TERMS for more details.) The resort also hosts a few adults-only spots such as the Edgewater Wai Bar, and Edgewater Bures, for those without little ones along on the trip.
CUISINE:
Chef Joeli sources beautifully fresh ingredients for the daily menu; many out of the garden on property and farms surrounding the resort! One of our focuses on retreat is balance; we'll talk about nutrition and creating long-term healthy lifestyle habits. But in my experience that INCLUDES allowing yourself to indulge a little while on vacation, and there is room for that perfect balance while you're in Fiji! Breakfast includes a huge variety of tropical fruits, eggs & traditional breakfasts cooked to order, as well as baked goods and my island favorite - museli with yogurt and locally harvested Savusavu honey. Lunch and dinner both have options for the plentiful locally caught fish, jungle-fed beef, pastured chicken, vegetarian options, and surprises - like some of the best Indian food you've ever tasted! Dessert can be as light as a few pieces of fruit, or as indulgent as our Fijian favorite - Banoffee Pie.
MORE ABOUT FIJI:
Fiji is a group of 330 islands (about 100 inhabited) spread over a wide net of ocean, south of the equator (about 3-4 hours by plane to Australia & New Zealand, for reference). Fiji is a rich, multi-cultural nation, centered around village communities and rich cultural traditions. Traditional Fijian culture highly regards the family unit, the village and the land, (Vanua). In Fiji, although English is the official spoken language, almost everyone is bilingual in Fijian & English - many also speak Hindu and a local dialect of Fijian as well. Fiji's near constant tropical climate includes temperatures that range from the low 80's to high 80's (fahrenheit) - pretty consistently! This is the rainforest, so occasional afternoon showers will roll through, but sunny is the norm. Pack light - no hairdryers or high-heels necessary! (We'll give you a complete packing list upon registration.)
W H A T ' S I N C L U D E D :
• 7 days/6 nights accommodation at Koro Sun Resort & Rainforest Spa. (Based on shared occupancy in a two bedroom Garden Bure, with your own private bedroom, shared living space & bathroom. Fully private room available at additional fee.)

• Three gourmet fresh meals daily, plus afternoon tea; vegetarian options and custom menus upon request.

• Daily workouts, breath-work sessions, & yoga classes.

• All non-motorized resort activities such as snorkeling, kayaking, guided rainforest treks, botanical garden tour, bicycles, tennis, volleyball, golf, hand-line fishing, stand-up paddle boarding and more!
• Gift bag full of eco-conscious, delightful treats, curated by January & James for your travels!

• All additional activities listed on itinerary.
• All transfers to/from Savusavu airport from the resort, plus complimentary assistance on your layover in Nadi International Airport, when arriving/returning, if you need.
• Our travel advisor's assistance with booking flights, to make sure you arrive across the international dateline and back home again on the right dates!
See more pictures from the last retreats here & here!
R E A D Y T O J O I N U S ?
January Newland
Bula!
I'm so excited to share this retreat with you because it blends together my biggest passions: helping people discover their healthiest & most radiant self, through nourishing food, fun fitness, and travel! I'm drawn to places where life moves a little slower. Where people live simply, and are more connected to the natural world around them, and to each other. Fiji embodies this for me. There's a slower pace; an appreciation for life that's contagious, and a kindness amongst these Islanders that resonates with me and draws me back.

My goal for this retreat is to help you find balance in healthy living! I believe in yoga sessions and the occasional Mai-Tai. I believe in exercise that feels fun, and food that nourishes AND tastes amazing. I believe that a life well-lived involves feeding your soul as well as your body.

I hope you'll join us in the South Pacific. I'd love to climb up hills with you, inspire you to try new things, help you move your body in ways that work the best for you. I'd love to see you sun-kissed and shining brightly, cheeks flushed from a yoga session (or a Mai-Tai) soaking up every minute of this beautiful life!
T H E D E T A I L S :
D A T E S : OCTOBER 7th - 13th 2018
COST: $2495 USD
Cost is all inclusive, outside of airfare. Includes a private bedroom, in a shared Bure - based on double occupancy in a 2 bedroom suite.
T O R E S E R V E :
Make your deposit using the contact form below, subject line: "I'm IN!" to reserve one of the limited spots.
Please contact January with any questions about the retreat via the contact form below.
Please see Terms & Conditions at the bottom of this page before enrolling.
V I N A K A V A K A L E V U !
T E R M S & C O N D I T I O N S
DEPOSITS & PAYMENTS A non-refundable deposit of $500 US dollars is required to confirm your spot. Full payment is required at least 45 days prior to the program start. If a booking is made less than 45 days in advance of the start of the retreat, the full amount is required to confirm a spot.
RETREAT CANCELLATIONS
If a cancellation is made by the client, regardless of the circumstances, the following refund fees apply:
- If you cancel more than 45 days before program start date: 100% refund or application of funds toward another retreat date, not including deposit (non-refundable).
- If you cancel within 45 days of program start date: you will forfeit your entire payment.
All cancellations must be received in writing to januarynewland@gmail.com.
Please note that there will be no refunds or discounts for arriving late, leaving early, flight cancellations, travel delays or illness. If you cancel your participation in a retreat for any reason, the cancellation policy above will apply, with no exceptions. We wish we could compensate people for unforseen circumstances (injury, family emergency, etc), but we have costs already incurred when reserving retreat centers and hotels. We have designed our cancellation policy to be as compassionate as possible in the case that your plans change. But to protect yourself further, we strongly encourage you to purchase travel insurance.
Minimum participant number for this trip is 8; maximum 14. We have never had to cancel a retreat, but we must reserve the right to cancel the retreat should the minimum number not be met. Should we postpone or cancel a retreat for this or any other reason, guests will be notified of alternative dates, and allowed to apply their payments toward a future date of travel, or refunded all retreat fees, inclusive of deposit, but exclusive of any airfare or other travel charges incurred. For this reason we HIGHLY recommend that you purchase travel insurance with trip cancellation coverage as soon as you pay your deposit.
TRAVEL INSURANCE We strongly encourage comprehensive travel insurance for all Trip Participants. It is solely your responsibility to secure such coverage. When obtaining a travel insurance policy, be sure it covers trip cancellations, trip interruptions, medical emergencies abroad, emergency evacuation, loss of baggage and flight delays or changes.
PASSPORTS & VISAS Each Trip Participant is required to carry a valid passport and obtain all required visas and/or permits for countries visited. All passports must be valid for 6 months beyond the duration of your trip. For example, if the Trip Participant (departs/returns) on January 1, his/her passport must be valid until at least June 2. We are not responsible for travel interruptions or cancellations due to the Trip Participant's failure to obtain or secure proper travel documentation prior to departure.
We strongly suggest you research or look into any and all pertinent information with respect to the latest health requirements and recommendations for the destination. This includes obtaining all necessary vaccinations, inoculations and prescription medications as directed by a local doctor or clinic.
TRAVEL All travel arrangements to and from Fiji and any incidental costs (alcoholic beverages, spa services, gifts) are covered by the guest. Travel costs are not included in the price of the retreat. Guests are welcome to contact us for information on traveling to & from retreat destination.
ACCOMMODATION All accommodation provided at a Bula Wellness Retreat is based on double occupancy in a two-bedroom suite. This includes private bedroom with a shared common area and bathroom. If you prefer completely private accommodation, the single supplement fee is $750 USD.
CATERING We make every effort to use the freshest and healthiest ingredients in our meals. Make sure you complete the registration form correctly so we can cater to you if you have any special dietary requirements. We can accommodate various diet requirements if given ample preparation time; please let us know upon booking should you require vegan, vegetarian, gluten free, etc. All meals are included in your retreat cost: breakfast, lunch, dinner and afternoon tea. Additional beverages like smoothies, wine, beer & cocktails are available at the Clubhouse bar throughout the day for purchase, as well as a small appetizer menu available at the Wai Club from 11am-6pm daily.
CHILDREN Children are welcome on the Retreat; the following applies: Children 3 and under stay and eat for free with each paying adult. Children 4-12 stay for free with each paying adult; Meal plan for children 4-12 is $50 US per day per child, including. Children under 12 may not participate in fitness events on schedule, other activities allowed at Retreat Leader's discretion. Ages 12 and up is considered adult pricing, and require parental accompaniment on the trip. Must be 18 or older to participate in retreat alone. Please get in touch with us if you have questions about your specific situation!
HEALTH AND SAFETY We make every effort to ensure the health and safety of our guests is paramount. We will not be held responsible for accidents or injuries which occur prior to, during or after the retreat. It is your responsibility to act in ways which protect the health and safety of yourself and others. All retreat participants must be at least 18 years of age; if under 18 you must be accompanied by a supervising adult.
* All terms and conditions may be subject to change.