Hey! So it's been a looooong minute since I've written a blog post… (June?!?) … and a lot has happened since then! I ran off and got married in Hawaii in August; started a little side project creating custom florals and flower crowns, inspired by Hawaii – called Wild Island Florals; had another wedding ceremony and week-long shin-dig with the whole fam-damily in September; and took my 4th group of amazing folks to Fiji for our annual wellness & adventure retreat in October! So, yes… I've been neglecting the humble little ol' blog.
But here we are, not even officially to December yet, and the twinkle lights are UP, the Christmas music radio channel is ON, and we are in FULL FORCE HOLIDAY MODE (said without any stress in my voice at all).
And so I present to you my Holiday Gift Guide, with some ideas for those healthy, food-loving, fit-fammy, eco-conscious friends in your life!
(FYI - I'm not paid to endorse any of the items in this gift guide, but if you follow an Amazon affiliate link to purchase them, I do get a small percentage as a commission without costing you anything extra!)
Holiday Gift Guide 2017
With all the craziness going on in the world and the devastation currently facing our oceans & environment, we have to remember it's the little things we do that add up. I'm committed to using as little plastic as possible and always looking for places where the garbage in our house can add up. These next three items can help!
Washable & reusable, Bee's Wraps are an alternative to plastic wrap, aluminum foil, or sandwich bags - made with beeswax, cotton, organic jojoba oil and tree resin. Wrap and seal with the warmth of your hands, and wash with cold water - they last for up to a year with proper care and regular usage. Try this variety pack of 7 ($42) or a trio pack ($18).
I love these for produce, nuts & seeds, bulk items, and anything else you can think of in the grocery store, in place of plastic bags! Washable, and comes in a 6-pack of three mesh/three muslin bags. Even works for washing delicates! ($20)
A pack of 4 non toxic, organic, bamboo-handled toothbrushes, with non-BPA charcoal infused bristles. Numbered 1-4 so there won't be any toothbrush fights ("you USED MINE!") and comes with plenty of good-feels since you'll be saving the earth from more plastic waste. ($12)
Moving on to the chefs in your life, check out this monthly spice kit from Raw Spice Bar, delivered monthly to your door in a 3-pack of seasonally inspired blends to help you try out new recipes based on your diet type! ($26/quarterly) You can also just purchase a one-time spice set of various sizes and themes ($26 - $56).
I recently heard someone say "Pineapples are SO last year." Which immediately elicited a stink-eye from me because, if you are a tropically-inclined soul such as myself, you understand that pineapples are timeless. Hence the appearance on my list of this Rose Gold Pineapple Tumbler, perfect for tiki cocktails, or just your every day morning coffee. ($30)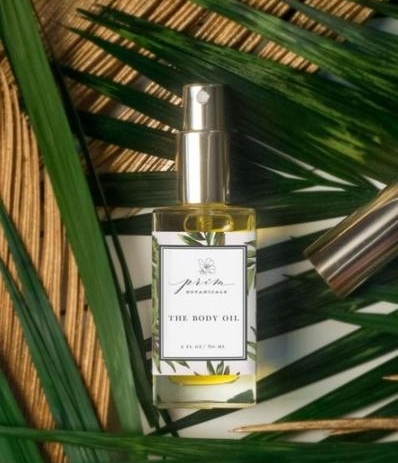 6. Prim Botanical - The Hair / Body Oil
6. Prim Botanicals - THE Hair / Body Oil Speaking of a deep love for all things tropical, these two luxurious oils are perfect during the dry winter months when your skin and hair could use a little hydration love. The Hair Oil is a heat protectant, hydrating hair mask, & nourishing scalp treatment; The Body Oil works wonders on stretch marks and eczema, all while helping create beautifully smooth, firm skin. They both have a jasmine/spiced/floral smell that will transport you to island time. AND they're both on sale at ShopConsciousBeauty.com right now! (Hair $31, Body $38, on sale)
As some of you know, I'm a big fan of spending more time with naked feet - I believe stronger, more adaptable feet can greatly improve your overall fitness & health. But TOTALLY bare feet are not always the most practical choice, and so I'm also a fan of minimalist shoes, especially for strength training, walking the dog, etc. I recently ordered a pair from this UK brand Vivo Barefoot Primus Lite Trainers, and I love them! They are the first super-minimal (read: just a piece of rubber between you and the dirt) shoes I've found that are also NOT totally UGLY; they're actually cute! Browse around for other versions - they make shoes for hiking, and just around-town casual street wear as well. ($80-$140)
8. Custom Flower Crown or Haku Lei - Gift Certificate
(Shameless plug alert: for my new bizz, Wild Island Florals) Gift someone a beautiful, custom made Hawaiian or Boho style flower crown, via gift certificate! That way they can order it to be made fresh for their: Birthday, bachelorette, baby shower, maternity photos, senior pictures, engagement photos, or wedding! Order by contacting wildislandflorals@gmail.com and I'll get in touch to create an electronic or hand-mailed paper Gift Certificate to be sent to the recipient! ($70-$95)
I think a beautiful piece of handmade artwork is one of the most fun and meaningful gifts you can give someone. I found Mika Harmony through Instagram, and fell in love with her tropical and ocean-inspired watercolors and mixed media prints. She creates notecards, stationary, stickers & pins, and of course prints, all for purchase here on her site. Perfect for the mermaid in your life! ($3 - $300)
I'm addicted - have been since February when I was introduced to this delicious stuff at Laird Hamilton's XPT Retreat in Kauai. The coffee creamer powder is made with Coconut oil and sustainably sourced red palm oil, and Aquamin, a nutrient-rich marine algae. It also comes in flavors: Cacao & Turmeric, along with an unsweetened version. Blend it up into your coffee for a healthy-fat, delicious latte! ($9 for 8oz package, or check out the SAMPLER of all 4 flavors for $32)
11. Wild Sage Smudge Stick
What's a smudge stick, you say? Well... in basic form, it's a bundle of dried herbs or leaves, used in many cultures in ceremonies & rituals, to cleanse the energy and literally clean the air. These are wild foraged, handcrafted, California White Sage sticks, paired up with botanicals and wrapped in hand-vegetable-dyed organic twine. I have so much fun creating these to match different moods:
Pink: bundled with roses and perfect for inviting in romance and cultivation love
Purple: bundled with lavender and lovely for new moon rituals and setting intentions
Yellow: with rosemary and excellent for full moon ceremonies and manifesting
They are a lovely gift for a host/hostess or housewarming, or just your hippie-dippy friends (like me lol). Email wildislandflorals@gmail.com to order! ($14 )
Thanks for reading, y'all!
HAPPY HOLIDAYS!
xo January