Bodyweight exercise is great. It can be a perfect base layer, and where you should start with most exercises to get your form right and tune into the muscles you should be using. But if you want to get strong, if you want to burn fat, you simply MUST at some point push & pull, pick up & put down HEAVY THINGS. At some point your body will adapt to doing the same thing (moving your own weight), and you have to challenge the muscles. You can do this easily through adding more weight. It's called PROGRESSIVE OVERLOAD.
Progressive overload is the theory that gradually increased stress placed on the body during exercise will not only stimulate muscle growth, but also create more dense ligaments, tendons and bones, better blood flow, and more responsive nerve connections between muscles and brain. And my favorite part - more muscle means increased metabolic function while at rest. MEANING: Fat burning when you are sitting on the couch. YES PLEASE.
It doesn't have to be as complicated as going to pump iron at the gym every day or learning to do Olympic lifts (although I love both of those things too!) I often use one of my kettle bells for a brief but intense workout at home (or on a road-trip) to get that burn & sweat in, quickly and effectively!
And Ladies, please listen: you WILL NOT GET BULKY from heavy weights. It is simply the fastest way to fat burning. Bulk only comes from testosterone and cupcakes, plain and simple.
Find a kettle bell on craigslist or buy yourself one heavy dumbbell and get started with these three simple exercises:
**If these are new moves for you, please seek the advice of an experienced trainer before beginning, or attempting to add weight to your routine! Always warm up with 5-10 minutes of light jogging, jumping jacks or jump rope, and mobility exercises in the pattern of movement to which you'll be adding weight; for example, body weight squats before Kettle Bell Squats.**
1. Kettle Bell Squat (not pictured)
Stand with feet a bit wider than hip distance, toes slightly turned out. Hold the kettle bell at your chest, hands on the handle sides, palms facing in and slightly up. Keeping a tight core and chest up, drop your hips and butt back as you bend your knees - as though you are going to sit into a chair right behind you. Don't stop half-way - eventually you want to have enough flexibility to bring hips at least as low as knee-height. Then, stand back up and squeeze those glutes at the top! Aim for a set of 8-20, rest, and then repeat that set 2 more times. Works: glutes and quads, biceps in holding the bell, core.
2. Back Row from a lunge
With right foot forward and left lunging behind you, rest your right elbow lightly on your right thigh. With the left hand grab the kettle bell by the handle and pull it up and back, toward your hip bone, creating a 90 degree angle at the elbow and a squeeze in your upper back. Keep the core tight throughout, and your neck long. Row 8-20 times, and repeat on the other side. Works: legs in holding the lunge, upper back and biceps, and core (belly and low back).
3. Push-up on the bell
Place the bell on its flat side on the ground, hands wrapping over the bell, feet wide, body in a plank position. SLOWLY, drop chest toward the bell. It's important to keep your ELBOWS TIGHT into your sides, and come down as low as you're comfortable. Engage your core a LOT before pressing back up into the starting position. Repeat as many times as possible maintaining a strong plank form. You can modify this slightly by doing them on an incline (as shown) like placing the bell on the first or second step of a flight of stairs, or a rock outcropping in Big Sur :-) Although not weighted, this push-up variation is a great move to work your entire upper body. Works: Triceps, chest, back, and core.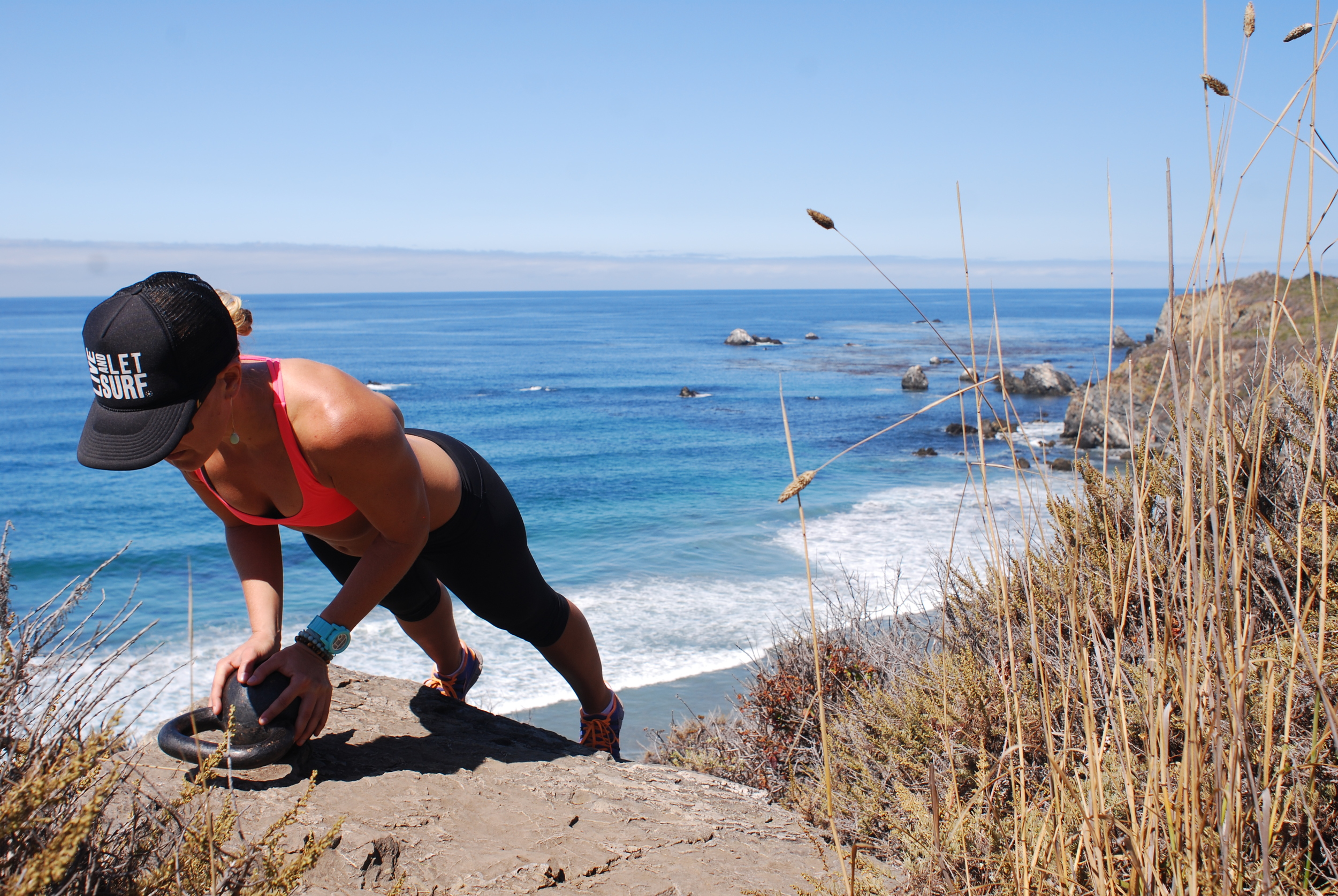 4. Off-set Weighted Lunge
Stand holding the bell loop with one hand, in a bicep curled position, palm up, bell hanging to the side of your shoulder (like in the first picture at the top of the page). With the same leg as the weighted side, step back into a reverse lunge, bringing your back knee close to the ground. Step back up together from there, and repeat, 10-15 times. Repeat with the other side weighted and other leg.
Need help with Kettle Bell weight selection?
Have questions?
Get in touch with me HERE!